Wedding & Events Transportation in Northern Colorado
Transforming Your Special Day into an Elegant Journey
Every wedding or grand event is a mosaic of perfectly placed moments. The gown, the decor, the ambiance; each detail holds significance. At the heart of these moments lies the journey — a journey to your dreams. With Genesis Executive Transportation, each ride is a memory crafted with precision and elegance. Our luxurious fleet ensures your big day gets the grandeur it deserves. Ready to elevate your wedding day experience? Give us a call!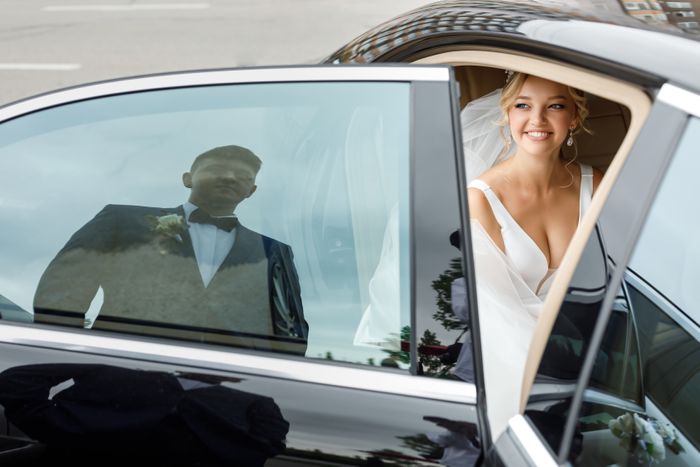 A Grand Entrance with Our Limo Buses
Imagine your wedding party arriving together, sharing joy and anticipation. Our wedding bus ensures this dream becomes a reality. Spacious, luxurious, and designed for celebration, our limo buses are perfect for bridesmaids, groomsmen, or any larger group wanting to arrive safely and in style.
Elegance Defined with SUVs & Sedans
For those intimate moments, like the bride's grand arrival or the couple's heartfelt departure, our sedans and SUVs offer the epitome of luxury. Envision the gleam of our Chrysler300 or Volvo S90 sedans or the commanding presence of our Tahoe or MKX SUVs. Perfect for those picture-perfect moments, our fleet ensures every entrance and exit is a moment to remember.
Beyond Weddings: Celebrations with Class
While weddings hold a special place in our hearts, Our luxury transportation services at Genesis Executive Transportation shine equally for other events. Be it prom nights, corporate galas, or anniversaries, each vehicle in our fleet molds to the event, promising an entrance that's always remembered.
Your special day is a tapestry of memories waiting to be woven. Allow Genesis Executive Transportation to be the golden thread, binding these memories with elegance and luxury. When you choose Genesis Executive Transportation, you are not only choosing elegance, you're securing your safety and comfort. Craft your perfect day with us. Reserve your dream vehicle now and make every journey a fairytale.
Genesis Executive Transportation Testimonials
Attentive to Detail
Genesis Executive Transportation in Northern Colorado offers exceptional airport transportation services. The drivers are kind, safe, and always on time, ensuring a stress-free and comfortable ride. Donna, one of their drivers, provides a personalized experience that makes you feel like you are riding with a friend. She is professional, friendly, and attentive to detail, making the ride enjoyable and memorable. Genesis Executive Transportation is an excellent choice for anyone looking for reliable and friendly airport transportation services in Northern Colorado, with Donna being a standout driver.
- Greg C
Very Consistent
We use a lot of private/luxury ground transportation services. Genesis is BY FAR the best we've ever encountered. Very consistent, professional, timely and discreet service. Payments are simple and scheduling is seamless. Drivers are well mannered, safe, well-dressed and friendly. The vehicles appear new and always clean. Genesis is on top of their game. If you just want a cheap ride somewhere and hope you arrive on time and in one piece - call anyone. If you want first class service backed with fair pricing by people who care about your time and your individual needs and you want to look good in the process - call Genesis and only Genesis!
- Jaycee Fietz
Clean and Fresh!
We have used Genesis two times now for rides to the airport! I will never call any one else for this service! They are always on time or early for our pick at home and at the airport! The vehicles are always the right size, clean and fresh! The drivers are the best always professional, polite and nice people! Donna is our favorite! She has driven for us twice now and I will always request her! This takes nothing away from the other drivers we just have connected with Donna!!! If I could give 10 stars I would! I will and would recommend this company to anybody in need of the services we have used!!!
- Jon Kosko